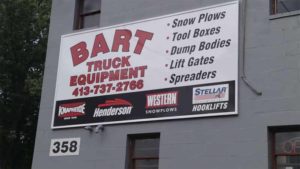 Bart Truck Equipment LLC, located in West Springfield, MA, provides truck equipment for the trucking industry, municipal and private sectors. Our company specializes in the sales, service, and custom fabrication of dump bodies, service bodies, platform bodies, plows, sanders, mobile cranes, hydraulic systems, and much more.

Bart Truck Equipment is an OEM (Original Equipment Manufacturer), and a member of the NTEA (National Truck Equipment Association).
Bart Truck Equipment Co. was established in 1960 by the Tourtelotte family. Purchased in 2010 by James DiClementi, an employee of the company for over 30 years, it continues to be a family owned and operated business.